Establish an unbreakable bond with one of our animals or help plant a new tree in the native plant reserve.
Symbolic sponsorship of animals and plants is one of the most direct ways to support the rescue and conservation programmes of our zoo, while creating a unique connection with your favourite species. In the case of animals, with this support you will contribute to their feeding, veterinary care and give a second chance to some of the rescue animals that are recovering at the zoo. Your sponsorships provide much needed support to help us protect endangered species and continue our important conservation work. A gift to nature lovers!
Meet the animals currently waiting for a sponsor.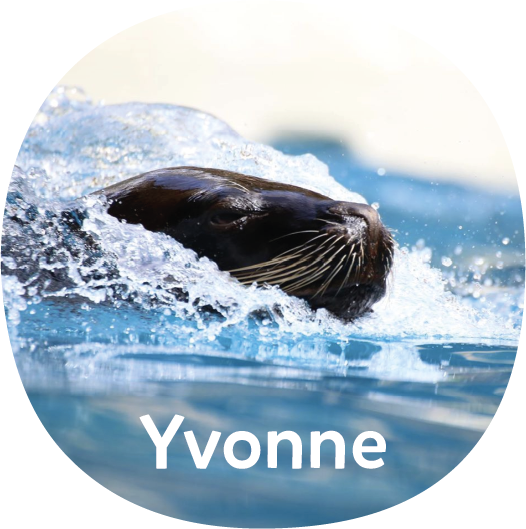 Yvonne is one of our oldest sea lions. Last year she had to undergo several cataract surgeries to avoid seve-re pain and other problems resulting from this disease. She needs daily care and special medication, which with your help we can provide more easily.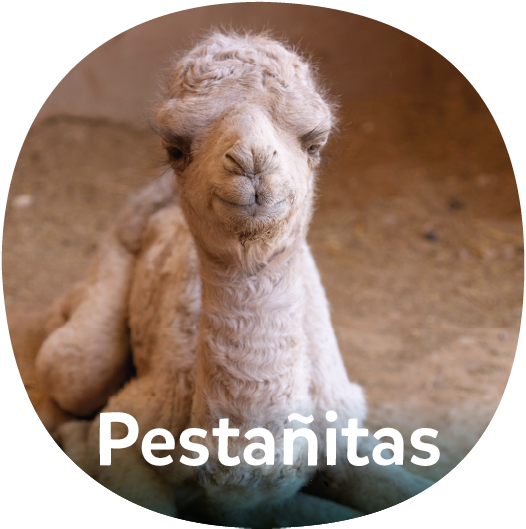 Take over the sponsorship for this young camel mare, who was not accepted by her mother. "Pestañitas", with her sparkling, playful looking eyes, grew up with the help of our animal keepers. But she still needs the love of all of us to move on. Would you like to work with us so that she can grow?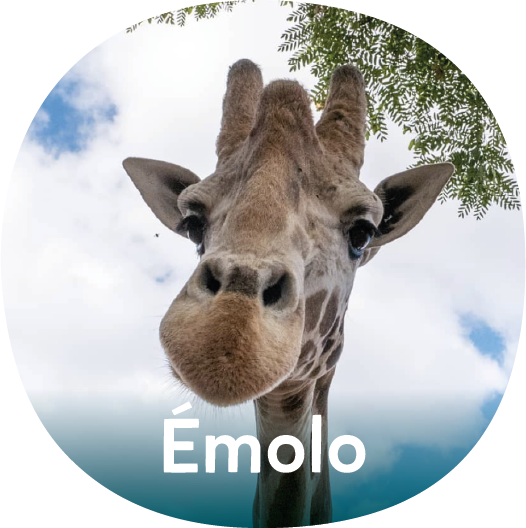 The most famous of our giraffes. Émolo was born with a deformity of the leg, but thanks to the training by our caretakers she has had a high quality of life so far. She cannot be operated on, so we have to conti-nue working so that she can continue to have a full life. Will you help us do this?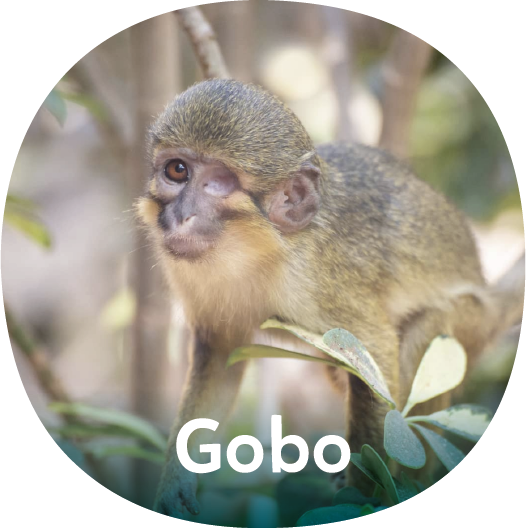 Gobo is a victim of the illegal animal trade. He had to be rescued together with his mother from the house where he was mistreated. This young monkey lost his eye when he was used as a toy by a child. Now he is trying to recover from the physical and psychological consequences with our help. You can also help to give him a second chance.
If you are passionate about plants, you can also contribute to preserving the flora by sponsoring a tree in our Botanical Garden.
Peralillo de las Canarias orientales
(Gymnosporia cryptopetala)
A shrub or small tree scientifically described in 2010 and only found in Lanzarote (12 specimens) and Fuerteventura (5 specimens), making it one of the rarest and most threatened plants of the endemic Canarian flora. Very little is known about its biology.
This species is considered a priority in the native plant reserve of the Oasis Wildlife botanical garden, where there are 20 specimens, all of which have been reproduced from those found in Fuerteventura.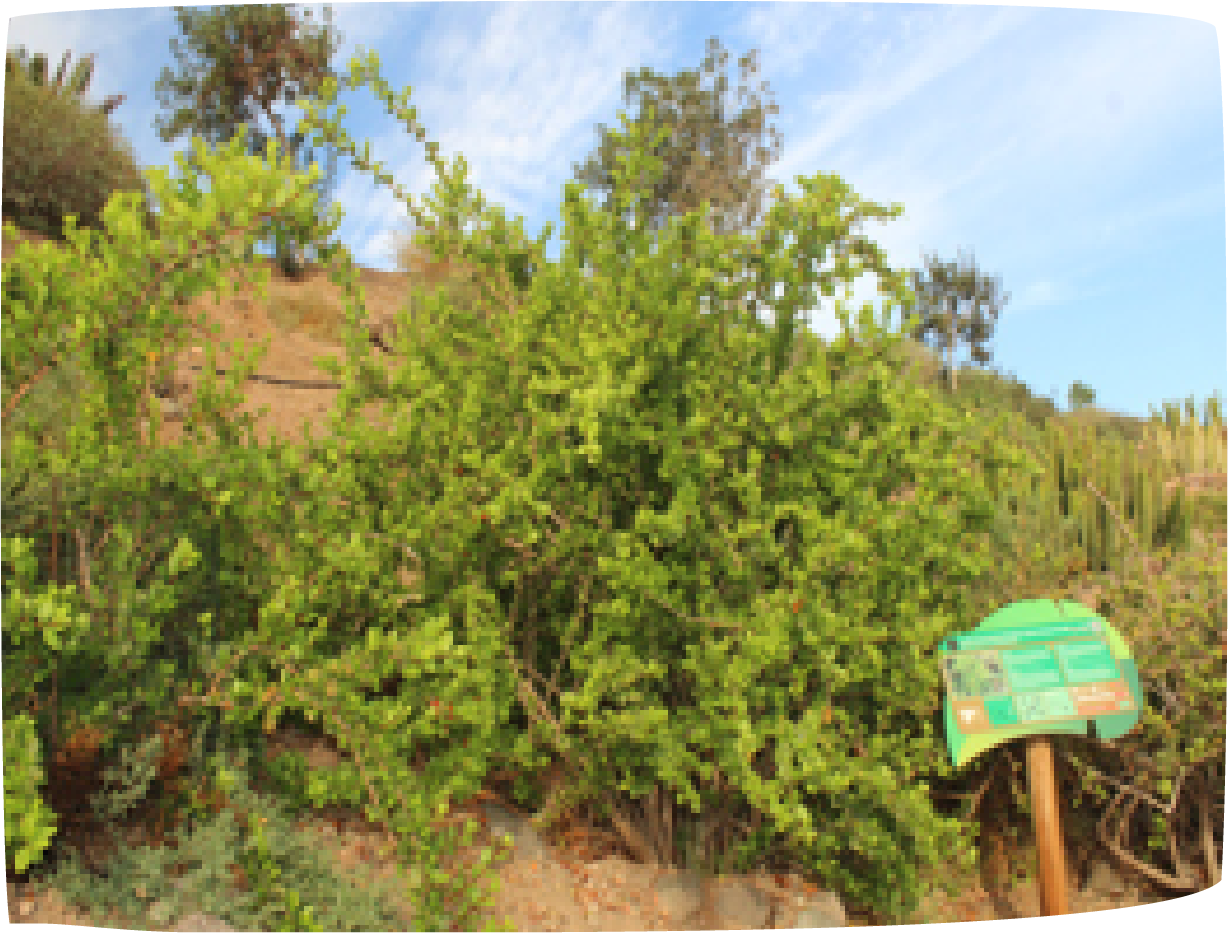 Canary Island wild olive tree
(Olea cerasiformis)
A wild olive tree from the Canaries, where it is found on all the islands but is rare on Fuerteventura. It is famous for its wood, hard and valuable. In Fuerteventura, the "Acebuches bonsái" are a curiosity; they are small specimens in the form of heavily browsed bushes deformed by goats and rabbits. Some of these specimens have been reproduced from cuttings and planted in the native plant reserve, being already three metres high trees.
Canarian Ironwood
(Sideroxylon canariense)
This tree is endemic to the Canary Islands and is found on all the islands except Lanzarote, but it is very rare on all of them, being considered a relic of the Tertiary Age. Millions of years ago, with a warmer and more humid climate in the Canaries, it must have been abundant. In total, it is estimated that today there are no more than 250 specimens in all, and only one is known in Fuerteventura. This one Fuerteventura specimen was reproduced vegetatively by cuttings. Currently, there are 5 specimens planted in our native plant reserve, which thrive well.
What does sponsorship include?
Personalized certificate with a photo of the chosen animal or tree
Letter of thanks
A guided tour through the zoo or botanical garden to meet the members of our park and especially the sponsored animal or plant, and a 10% discount on experiences
A biography and general information you should know about the sponsored species (animal or plant)
News from your sponsored animal or plant twice a year (mail with exclusive videos)
Many thanks from the animals and our team for your collaboration!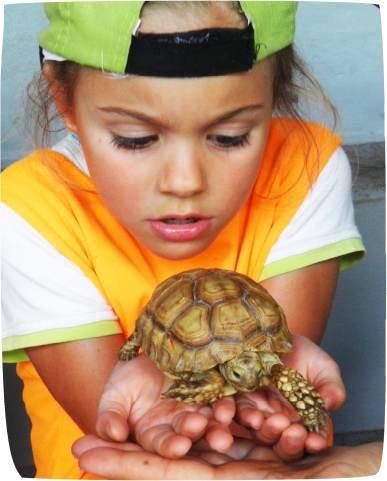 Sponsorship prices (per year)
animal: 90 euro
plant: 55 euro